Meet the team – Anastasia Naumkina
What is your background?
Originally Russian, I have been born and raised in Siberian city named Krasnoyarsk, where I spent the most time of my life and studied in my first university in order to get an Engineering degree in the specialization of Chemical Technology of Natural Carriers and Carbon Materials. Because of the region I grew up in, enriched by natural reserves of oil and gas, we called our specialty of study simple back then: "Oil and Gas", but in fact it was more than that, including a studies of the non-conventional sources of energy.
When I was about to graduate, a life change opportunity to get in depth of chemical phenomena and a study abroad appeared in the horizon. Many A4 sheets of paperwork and interviews later, I have been successfully admitted to be a student for an International Master's Degree program for Research Chemists of the University of Eastern Finland where I got my first experience to be in an international environment and to perform using English language.
Sometime after the graduation, the land of tulips, cheese and windmills appeared in my life (at least this is what I knew back then about The Netherlands) and after transition time here and a side job, I got to get the real taste of industry by working at Yokogawa, a Japanese company with European and Dutch office located in Amersfoort. For the period of 3 years, I was a Sales Engineer for Analytical Solution Sales such as Analyzer System Integration for Dutch customers as well as doing sales support for the Gas Chromatograph laboratory for European and worldwide affiliates.
What is your responsibility as Sales Manager?
A position of a Sales Manager in general involves many challenges and very versatile range of activities, where "activities" is the key word. Meaning that a Sales Manager needs to be very proactive and initiative in order to be the driving force of a company as an engine of the car.
To be a Sales Manager in a technical field is even more challenging, because you need to know very well what are you trying to sell and to be confident that the solution you are offering is fit for the purpose and answers the demand of a customer. It is not "sell in order to sell" thing, it is offering solutions which the company you represent is strong at, while creating a benefit to the customer and building a strong, reliable partner relationship with your customer. I would say, that comprises my responsibilities but not limited to, in a nutshell.
You have been working for 360°KAS since January 2020, do you like it?
Frankly speaking, it is not without a challenge every new endeavors starts. It is a new collective, new atmosphere, new colleagues you need to align your work with, adjust and make the best out of it. Which is I like, otherwise it will not be interesting. A "challenge" is a synonym of "growth" to me and the way of developing myself in a professional and personal field by bringing added value and the benefit to the company.
I cannot but mention the fact that my everyday work colleagues have Dutch origin (which is naturally, as I am in The Netherlands and not vice versa), what sometimes brings some kind of clash of different mentalities, but I like and really appreciate the presence of honest communication between the colleagues, strive for growth and directness Dutch people so famous for, which in a professional sphere I simply love as I can relate to that as well. It can also be seen in the structure of the company – clear and easy, thus it was not difficult to get to know the company and to orientate myself when I just started.
Why did you choose 360°KAS as employer?
360°KAS is very unique in the sense of that it is young formed company which is due to its history, origin and circumstances inherited many tenth of years of the work and technical experience on the market. It is a team of professionals who have ambitions of bringing the company to the next level by doing gradual steps forward always with a room for flexibility, creativity and passion. All those facts were naturally attractive to me as to a potential employee. Therefore, I decided to take a next step in my carrier and to get fully immersed in the area of deep technical sales, by having a possibility to actually manage it myself with a focus on a discovery of an "unknown land", being an acquisition of a new customers, new areas and new markets. There are many long-term challenges ahead which I wish to fulfill myself and together with the team.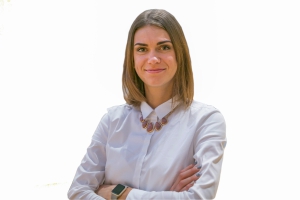 Anastasia Naumkina
Sales Manager
360KAS - Analyser & Sampling Systems