Meet the team – Ronald Joosse
Who are you?
My name is Ronald Joosse, 36 years of age and part of the 360°KAS Team as Customer Service Engineer.
What is your background?
After high school I attended the Conservatory (High School of Arts – Music Faculty) in Utrecht, The Netherlands as a classical trumpet player. Unfortunately, as most of my teachers were send on their way due to severe budget cuts, I felt the need to quit my music adventure.
After 2 years of music education I joined Scheldebouw (a Dutch company specialized in facade construction for office buildings and residential towers), first as assembly employee at the factory, later as foreman. As such I was send regularly to various construction sites in The Netherlands and the United Kingdom.
After about 7 years I had the opportunity to join the 360°KAS Team in December 2015 as Logistics Manager, becoming responsible for coordinating all logistics related matters such as packing, international transportation and handling all customs related (shipping) documents.
Triggered by my personal interest in the international character of our projects, I was given the opportunity to continue as Customer Service Engineer per July 2021. I am responsible for getting the correct spare parts delivered on time at our end-users. 360°KAS strives to achieve the highest goals in being a global partner for analyzing, sampling and pilot testing solutions. I am proud to be able to contribute to those results.
What is your mission at 360°KAS?
I have the privilege of being part of a team of very resourceful, enthusiastic and high-skilled professionals, of whom I get to learn firsthand every day. It is my personal goal to keep developing myself and with that (further) develop the customer service process within our company. Although I am constantly involved in several projects at the same time, it will always be my goal to ensure a high quality level on the execution of every project.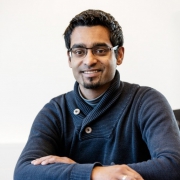 Ronald Joosse
Customer Service Engineer
360KAS - Analyser & Sampling Systems