Pilot Plants
Short Contact Time Riser Test (SCT-RT) Unit
Introduction
The method to measure performance of catalytic cracking (FCC) catalysts in a small-scale fluidised bed test unit with short contact times of 1 to 3 seconds.
Decisions on catalyst selection are often supported by performance results from lab-scale simulation. For this purpose, 2 components need to take place in the lab-scale units. Both realistic deactivation of the fresh Fluid Catalytic Cracking (FCC) catalyst as well as performance measurement of this catalyst. For that reason, the units are able to mimic commercial operation closely.
In order to evaluate the performance of a deactivated FCC catalyst, a short injection time of about one second and adiabatic operation is necessary. This is to simulate the behaviour of a commercial riser. Albemarle has pioneered this technology and 360°KAS brought it to market in 2006 in the form of our bench scale Short Contact Time Riser Test Unit (SCT-RT).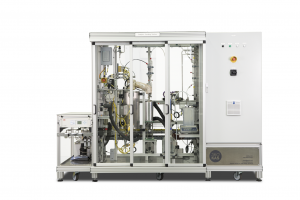 Short Contact Time Riser Test (SCT-RT) Unit – Features
Type of Reactor: Fast Fluidised Plug Flow
Catalyst Intake (dependent on the cat-to-oil ratio): Min 12 g – Max 24 g
Feed injection time: 1.00 sec.; adjustable up to 3 sec.
Fluidising Medium: Nitrogen
Capacity: Up to 6 tests per 8 hours
Type of control: Sequence control and temperature control PLC/ PC
Gas flow control: Instrument-based
HMI & Data Acquisition: In Touch – Wonderware
Approximate Dimensions: 2940 x 970 x 2100 (WxDxH in mm)