Total Sulphur Measurement in Biodiesel
Recently our service team successfully commissioned an XOS analyzer system measuring Total Sulfur in bio diesel at the Malchin production location of ecoMotion GmbH, Germany. EcoMotion is a leading company for the production of bio fuels with three production locations in Germany, one in Denmark and one in Spain.
The ecoMotion biodiesel plant in Malchin is one of the first biodiesel pilot projects ever undertaken in Germany. This multi-feedstock biodiesel plant was opened in 2001. The primary materials are animal fats, vegetable oils and waste frying fats sourced from the catering sector. The annual output of biodiesel is about 10,000 tonnes.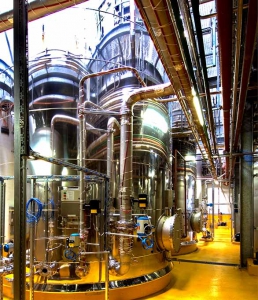 The core process in biodiesel production is transesterification. In this chemical exchange reaction, the glycerin contained in the primary material is replaced with methanol. This leads to the formation of fatty acid methylester (biodiesel) and glycerin. When converting animal fats and waste frying fats, the production process has two additional steps that are not required in conventional biodiesel production. In the first step – prior to transesterification – the free fatty acids contained in the primary material are esterified. After transesterification, the product is distilled. The result is an extremely pure, crystal-clear and almost colorless product.
To meet the climate protection targets set by the European Union, the biodiesel's sulfur concentration has to be monitored continuously. For control purposes and to avoid time for consuming laboratory analysis on a remote location, ecoMotion and 360°KAS (exclusive distributor for XOS in North and West Europe) installed an online Total Sulfur analyzer, model SINDIE Sulfur Analyzer.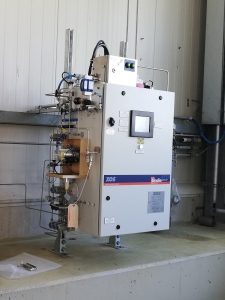 The commissioning & training program was completed in 2 days. Calibration of the unit was performed with 5 diesel samples with a known concentration varying from 5 to 500 ppmV.
The SINDIE analyzer unique "Window Module" automatically shifts a new film between the optics and the sample. Zero & span drift (caused by scaling or building up of pollutants) is prevented in this way and results in an extremely stable measurement. Furthermore the special optics avoid all kind of background signal, allowing the unit to measure reliable down to 0,5 ppm Sulfur in all kind of fuels or HC streams.
Interested in what our XOS solution can do for you? Please contact us for more information or visit our website.
https://360kas.com/wp-content/uploads/2019/10/ecomotion_malchin.jpg
341
586
Yanto Schraa
https://360kas.com/wp-content/uploads/2018/05/360kas-1.png
Yanto Schraa
2019-10-16 12:45:35
2023-01-19 16:22:29
Total Sulphur Measurement in Biodiesel